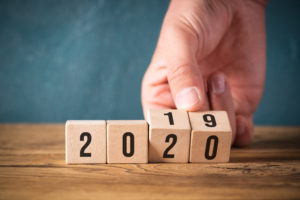 2019 has been a year of significant progress in systemic sclerosis (SSc) research and treatments.  Here are some of the highlight
Key Treatment Advances
First Scleroderma Specific Drug Approved:  The FDA approved the first drug specifically for treating systemic sclerosis – OFEV® (nintedanib).  OFEV is approved to treat scleroderma-related interstitial lung disease (ILD) and has been shown to

slow the rate of decline of lung functioning compared to placebo

.  (You may not be aware that with the exception of OFEV, ALL drugs commonly used to treat systemic scleroderma, e.g., methotrexate, Cellcept, rituximab, are not approved as a treatment for scleroderma.  They are approved for other conditions and clinicians are using them "off label" when treating patients with scleroderma.)
Autologous Stem Cell transplants (HSCT): More research has been published showing that in some cases, autologous stem cell transplants (HSCT) lead to long term remission, more than 10 years so far in a few patients.  It should be noted that not all patients benefit from HSCT and some relapse after a period of initial recovery.  While safety is improving because of improved protocols and better patient selection, HSCT is still a major procedure that has significant risks, so it is used primarily for high-risk patients with rapidly progressing disease.  Based on the newest published research, several organizations now consider HSCT to be "standard of care" for this group of high-risk patients.
Scleroderma Education Project Research
Abnormal Blood Rheology: Three papers have now been published in the past couple of years that are focused on abnormal blood rheology.  One paper (Korsten 2017) documents that elevated blood viscosity is linked to increased risk of digital ulcers in SSc patients.  A second paper (Senturk 2019) documents that elevated blood viscosity is also linked to increased risk of pulmonary artery hypertension.  And, a recently published Letter to the Editor in "Clinical Rheumatology" discusses the link between abnormal blood rheology in primary versus secondary Raynaud's (Harris 2019).  We believe that this increased awareness of abnormal blood rheology in SSc will begin to shift research interest to treatments such as pulsed therapeutic plasma exchange (TPE) that is focused on normalizing blood rheology as a way to slow or interrupt the disease process at an early stage.
Therapeutic Plasma Exchange (TPE): On the TPE front, a patient in Europe has now been on our suggested pulsed TPE protocol for more than two years and has remained in full clinical remission for more than a year at this point.  Her case report is being written and should be submitted for publication early next year.  In addition, several patients are now just starting individual trials of pulsed TPE in the US.  (Note: there are no clinical trials of TPE currently underway that we are aware of.  Since TPE is a commonly used treatment for a number of disorders, using TPE to treat SSc is essentially just an "off-label" use of a common treatment.)  We will be closely following the progress of these patients over the next year.
New Research: Next year, we are planning on helping to fund some important research that is focused on better understanding the role of abnormal blood rheology in the development of scleroderma symptoms.  In addition to some basic research trying to better understand the nature of abnormal red blood cell clumping in SSc patients, we are working on the design of a small pilot study to determine if a treatment called photobiomodulation (PBM) improves blood rheology and symptoms in patients with diffuse SSc.
Last Chance to Donate During 2019!
Please consider a last minute donation to the Scleroderma Education Project to support our education and research goals.  The Scleroderma Education Project is a 501c3 non-profit organization so (US) donations are fully tax deductible.  Click here to donate: https://sclerodermainfo.org/donate/.
References
Korsten, Peter, Timothy B. Niewold, Michael Zeisberg, Tammy O. Utset, Daniel Cho, Lawrence S. Zachary, Nadera J. Sweiss, and Suncica Volkov. 2017. "Increased Whole Blood Viscosity Is Associated with the Presence of Digital Ulcers in Systemic Sclerosis: Results from a Cross-Sectional Pilot Study." Autoimmune Diseases 2017 (November): 1–5. https://doi.org/10.1155/2017/3529214.
Senturk, Bihter, Bahri Akdeniz, Mehmet Birhan Yilmaz, Buse Ozcan Kahraman, Burak Acar, Sadettin Uslu, and Merih Birlik. 2019. "Whole Blood Viscosity in Systemic Sclerosis: A Potential Biomarker of Pulmonary Hypertension?" Clinical Rheumatology, May. https://doi.org/10.1007/s10067-019-04603-4.
Harris, Edward S. 2019. "Raynaud's Phenomenon and Blood Rheology: Comments on the Article 'Raynaud's Phenomenon—an Update on Diagnosis, Classification and Management.'" Clinical Rheumatology, October. https://doi.org/10.1007/s10067-019-04785-x.